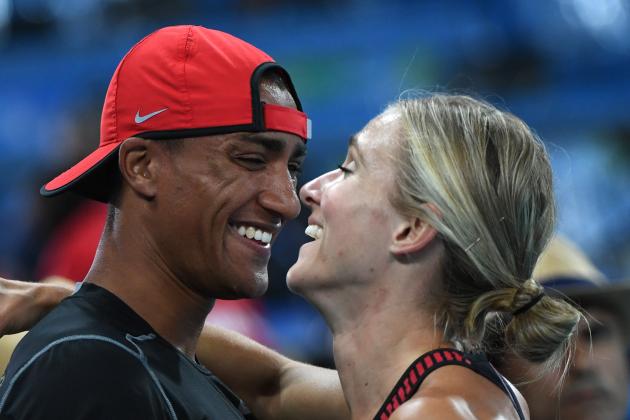 RIO DE
JANEIRO
— He
didn
't exactly go all out—at least not on their first date, anyway. But Ashton Eaton has always known it's better to start slow and have a strong finishing kick than to reveal your moves too fast.
The man who would become the greatest athlete in the world—the man who is gunning for his second consecutive Olympic gold medal in the decathlon on Thursday—was a sophomore at the University of Oregon. She was a freshman. They had first talked a few months earlier at the 2007 Pan American Junior Athletics Championships in SaoPaulo, and there was just something about the girl—her soft blue eyes, her traffic-stopping smile, her easy laugh—that bewitched Eaton. It took five months to muster the courage, but he finally asked BrianneTheisen, also a star track athlete, out on a date.
He didn't have a car, so on Valentine's Day in 2008, Brianne picked him up. When he opened the door, he greeted her with roses and a CD mix he'd made especially for her. He then directed her to one of his favorite dining establishments in Eugene, Oregon—that culinary paradise known as the Olive Garden.
They barely noticed the endless supply of breadsticks and the blue-haired septuagenarians in the restaurant. That night, they disappeared into each other's eyes. By the end of the date, they were practically finishing each other's sentences.
They were married in Eugene on July 15, 2013. Their coach, Harry
Marra
, officiated the nuptials. And befitting their status as the first couple of track and field, they handed out Hydro Flasks as wedding favors.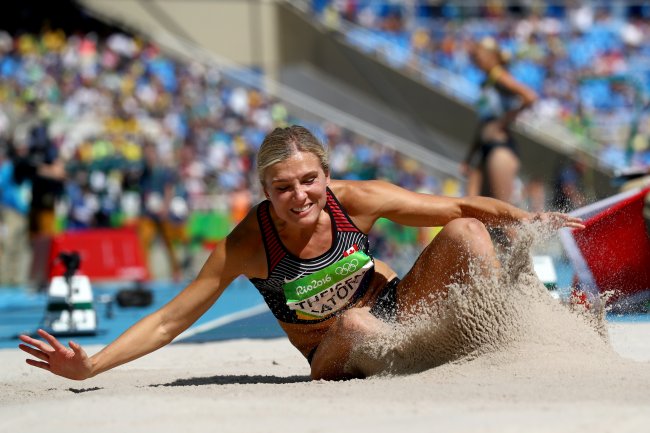 "I didn't hit it out of the park with that first date," Ashton said, smiling devilishly. "But I must have done something right, because we've been together ever since."
And oh what a pair they are. For the past four years, they've trained together about three hours a day in Eugene. Ashton, 28, who grew up in Portland, is a sculpted mass of fast-twitch muscles, a natural who holds the world record in the decathlon and indoor heptathlon. Brianne, 27, a native of Saskatoon, Saskatchewan, is a classic overachiever, squeezing every ounce of her potential into production. She holds the Canadian record in the heptathlon with 6,808 points.
They had one near-catastrophe. A few years ago, they were practicing the javelin together when Ashton went to retrieve his spear. Brianne then heaved her javelin, aiming far away from Ashton, but it slipped out of her hand and hurtled directly at her then-fiance. Just seconds before he was impaled—in a display of athleticism that Brianne still says may have been the most impressive of Ashton's life—he ducked and leapt out of harm's way.
"Brianne and I are an incredible team," Ashton said. "In my younger years, I was aloof and didn't take my sport as seriously as I should. But then we started training together, and I saw how she kept a detailed training log and really watched her nutrition. She changed my approach to so much. She's good at everything I'm not."
On Friday afternoon, the husband sat in the stands at Olympic Stadium and cheered on his wife, who was competing in the heptathlon. Wearing a red baseball cap with "Canada" emblazoned on the front, Ashton watched from the front row, riveted. Brianne struggled in her first three events—she was in sixth place at the end of the first day of competition—but she rallied to win a bronze, her first Olympic medal. Ashton yelled so hard in her final event, the 800-meter race, that he nearly lost his voice.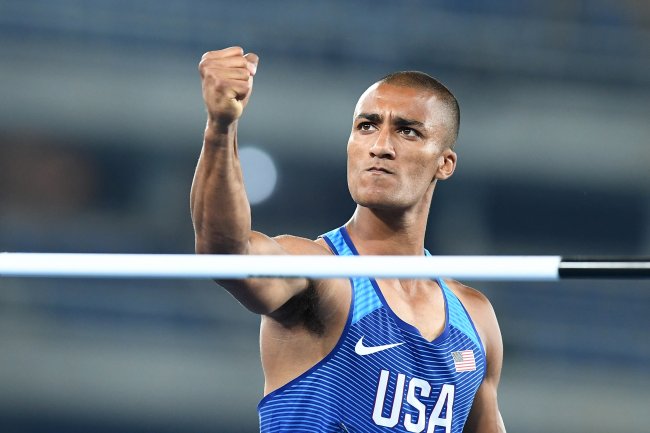 As soon as the competition was over, Ashton beelined it to his wife.
"He said, 'Good job, I'm proud of you, way to battle,'" Brianne said. "He sees what goes into it, and he gets it. He knows how I am. He saw that bad first day, and normally the old Brianne would have gone in the tank and totally sucked. He said he was proud of me."
On Wednesday, they switched places, with Brianne in the crowd screaming for her man. The first event in the decathlon was the 100-meter dash. The public address announcer introduced Ashton to the crowd: "The world-record holder, from the USA, Ashton Eaton!" Brianne rose from her seat, clapping and yelling like she was trying to raise the dead.
The starter's gun sounded, and Ashton blazed into the hot Brazilian morning. He crossed the finish line in second place in a time of 10.46 seconds. He immediately pointed into the stands at his wife, who blew him a kiss.
Going into Thursday's final five events—the 110-meter hurdles, the discus, the pole vault, the javelin and the 1,500 meters—Eaton was in first place, 121 points ahead of second-place Kai Kazmirek of Germany. To understand how big a lead 121 points is, consider that 122 points separated second place from sixth place. Eaton is trying to become the third athlete in history to capture gold in the decathlon in back-to-back Olympics, joining Great Britain's Daley Thompson (1980 and '84) and the United States' Bob Mathias (1948 and '52).
"If I can win another gold, my wife will be as deserving of that medal as me," Ashton said. "She's kept me going when training got hard. This sport is extremely hard mentally, and she's the one who always knows what to say to me at just the right time to keep me going."
If he does ascend to the top of the podium on Thursday, husband and wife plan to celebrate deep into the Brazilian night.
In : Sports News
Tags:
usolympics bleacherreport ashtoneaton sports mbodymentradio atlantaradio